Social Responsibility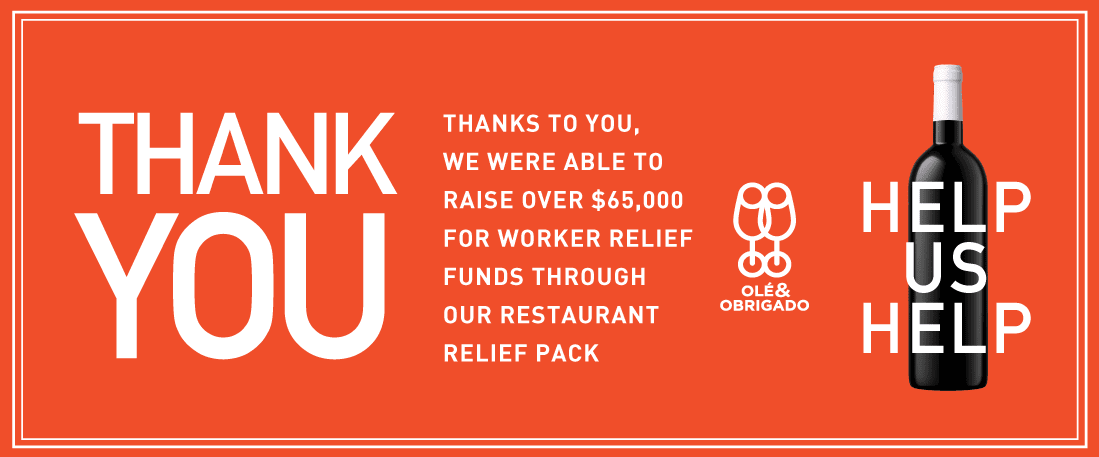 In the spirit of a United Food & Beverage Industry, all of us at Olé & Obrigado would like to thank you for helping us raise over $65,000 for restaurant worker relief funds. The Restaurant Relief Pack was a retail program we launched to donate 50% of the profits from the sales of select wines from March 2020 through May 2020 to national (Restaurant Workers' Community Foundation) and local organizations providing direct relief to hospitality employees.
Liquid Geography Rosé is our way of saying 'thank you' to everyone that has helped our niche import company of Iberian wines since its foundation in 1999.

Since 2013, we have raised over $370,000 for various foundations by donating 100% of the profits from our Liquid Geography Mencia wine. Our goal with this wine is to achieve $1 million in total donations by 2025.

Currently, through Liquid Geography Mencia, we support the TJ Martell Foundation, Wheeling Forward and The Restaurant Workers' Community Foundation. With Liquid Geography Garnarcha, we support with 50% of our profits to the World Central Kitchen. Learn more about these foundations below.

To help us make a difference, please contact us at oleobrigado@oleobrigado.com to purchase Liquid Geography. Join us in bringing hope through wine to these wonderful causes!
---